Access Home RCH
At Access Home, accessibility is our specialty. We're committed to helping clients feel safe and comfortable in their homes, by delivering accessibility-focused improvements, upgrades and renovations. Our caregiver contractors (Caretractors) are familiar with ADA guidelines and use them to complete a wide variety of projects, including ramp installations, door widening, zero-entry showers, shower grab bars and so much more. Contact us today for an estimate on accessible home improvements.
Beyond Contractors, We're Caretractors
To live independently requires comfort and safety in your home. For those with mobility restrictions, traditional home design can pose a lot of issues and create barriers to independence. Access Home is here to solve them. As an accessibility remodeling contractor serving Spokane County, WA, we deliver improvements, renovations and installations that fit within your everyday realm of household interactions.
We also understand that when you call us, more than likely it is due to a challenging situation for yourself or a loved one. No one saves up to build a "dream ramp". If you are calling us, there was a good chance you were referred by a health professional such as a physical therapist, occupational therapist, case manager or social worker specializing in home health. This is why we focus on so few things. So that when you need a dedicated expert, you have one. We truly specialize in a few specific areas.
We're a ramp installation company. Our team constructs durable, custom-made ramps that make entering and exiting your residence smooth, simple and safe. We use durable, weather-treated wood or aluminum. We have a good understanding of ADA-compliant, as well as International Residential Code, minimum standards. All of our wood ramps feature non-skid coating and offer an easy incline and plenty of stability, and they're made to fit your home's specific structure.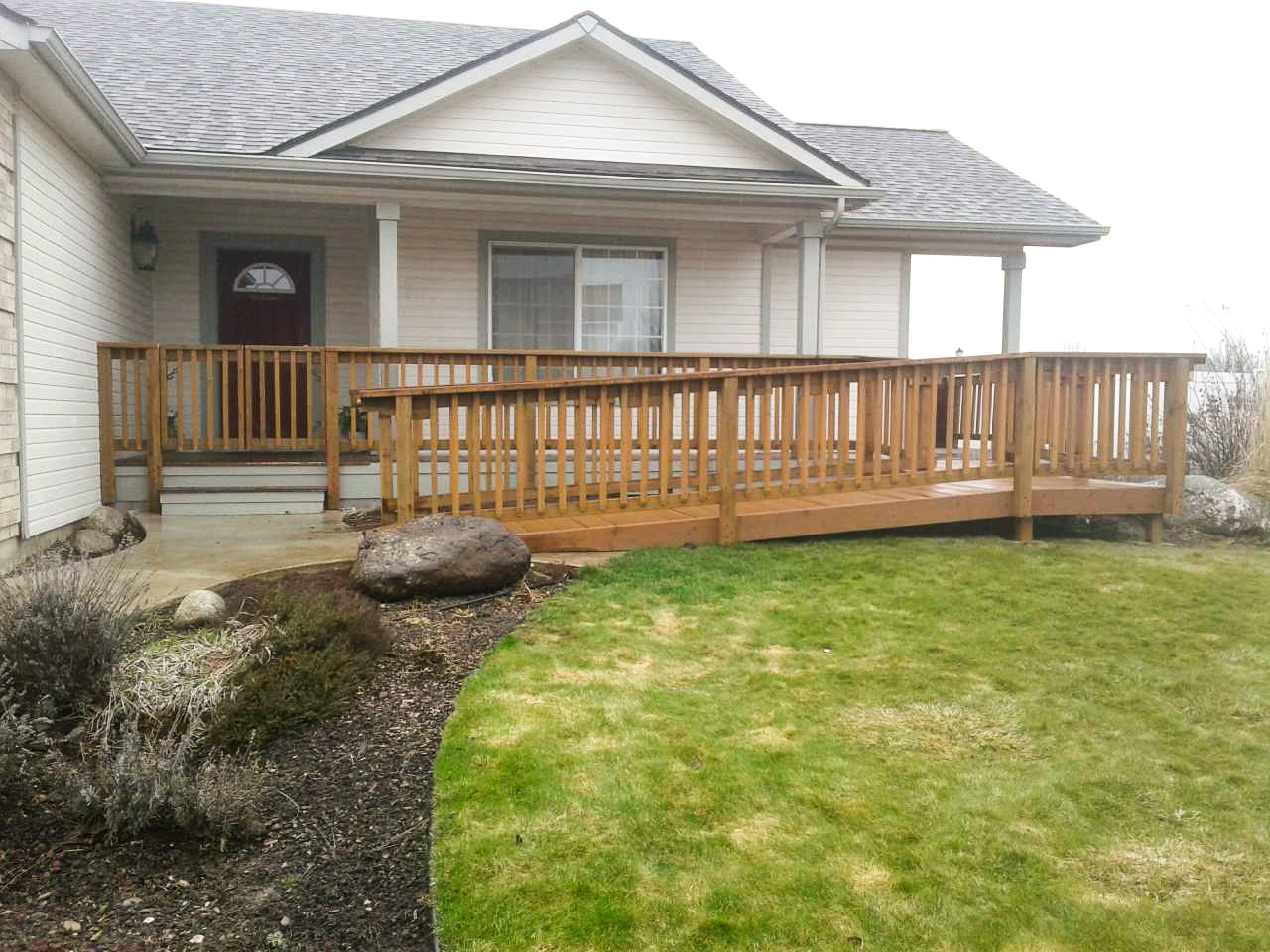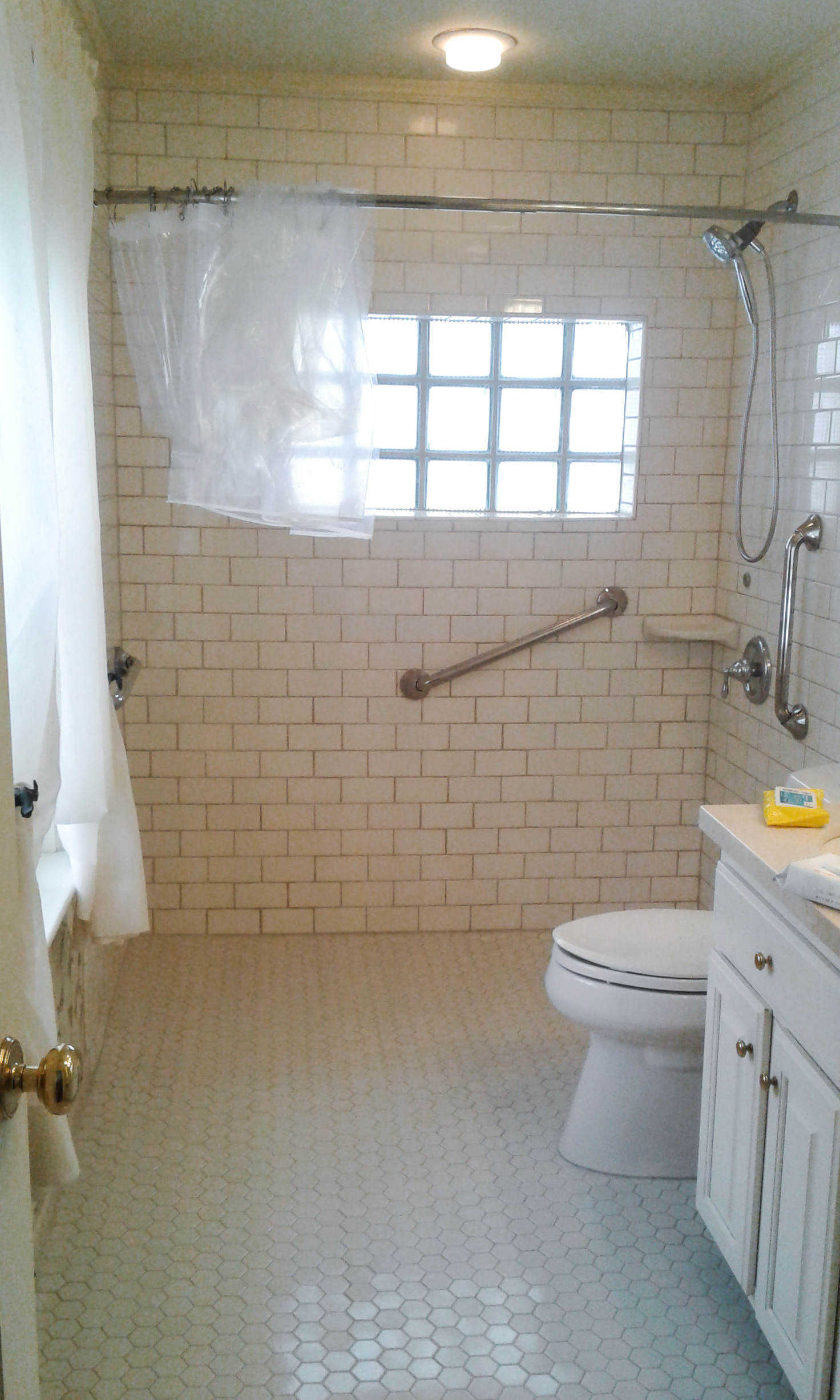 Inside the home, our focus is on bathroom remodeling.
Inside the home, our focus on bathroom remodeling is the curbless zero-entry tile pan showers. Many companies offer a walk-in shower with a curb, prefabricated insert or ready-made pan. Our unique affordable system is custom to your bathroom and will maximize space while minimizing tear out. And best of all, there is no curb. We specialize in a European curbless design that is safe, modern and functional. We offer many different tile styles to choose from or you can design your own. We've helped homeowners throughout Spokane County, WA ensure their safety with non-slip, waterproof bathroom surfaces, ADA-compliant toilets, and grab bars. We address every part of the bathroom to help you retain your independence on a daily basis. We also have the ability to widen doorways, making it easy for wheelchair-bound individuals to enter and exit for both interior and exterior doorways and entry ways.
Above all, we truly care about our clients. We know that the improvements we make are part of your everyday life,oftentimes that was not planned or wanted. It's why we like to think of ourselves as Caretractors: contractors with the mindset of caregivers. Call us today and let us put our unique perspective on accessibility remodeling to work for you.
Our capabilities include ramps, door widening, zero-entry showers, grab bars and much more.
Our mission is to help every client feel able-bodied and independent in their own home.
We work hard to make sure your project is inclusive and that your needs are fully met while also being as minimally disruptive as possible.
Our employees undergo the same background checks and drug tests as in-home caregivers.
We're registered with the Washington State Department of Social and Health Services; such as Aging and Long Term Care (ALTCEW), Elder Services, and DDA. We can also complete work for Veterans and Labor and Industries.
Accessibility ramps and remodeling available to clients in the following areas:
Adams County, WA
Lincoln County, WA
Pend Oreille County, WA
Spokane County, WA
Stevens County, WA
Whitman County, WA
Garfield County, WA
Asotin County, WA
Columbia County, WA
Walla Walla County, WA
and more!
Live Comfortably with Accessibility
Your home should conform to your needs, so you can live in perfect comfort. Let our caretractors deliver accessibility improvements that make your house feel a bit more like home.
Washington State General Contractor # ACCESHR862NF